The NI Executive published its pathway out of restrictions in March 2021, and as a result restrictions have begun to ease across Northern Ireland. You can find a full list of current regulations and guidance here.
We've provided some helpful info for visitors to Belfast here to help you plan your visit.
Jump to:
Travelling to Northern Ireland
Arriving from within the Common Travel Area
If you are travelling to Northern Ireland from within the Common Travel Area (England, Scotland, Wales, Ireland, the Isle of Man or the Channel Islands) and staying overnight, you should take a rapid lateral flow device test (LFD) before you begin your journey.
You should only travel if the test is negative. You should not travel to Northern Ireland if you have COVID-19 symptoms, or have received a positive COVID-19 result.
You should also take an LFD test on days two and eight of your stay. If the test result is positive, you must begin a period of self-isolation immediately, along with anyone you're staying with.
Click here to order LFD tests. 
Anyone who receives a positive test using an LFD should have a confirmatory PCR test within 24 hours. Tests are free and can be booked here.
Arriving from international destinations
Since 24 May, travel has been permitted from certain international destinations into Northern Ireland. The NI Executive has published a Green, Amber and Red list of destinations, each with its own requirements.
Please note, you will also be subject to rules and regulations from your point of origin before you arrive into Northern Ireland. We strongly recommend you check these rules, as well as checking with carriers and accommodation providers before you travel.
Travelling from a green country
Before you travel to Northern Ireland from a green country you must:
provide proof of a negative COVID-19 test result taken up to three days before departure
book and pay for a day two COVID-19 PCR test
complete a UK passenger locator form 48 hours before departure
Click here for full details on arriving from a green list country.
Travelling from an amber country
If you're travelling to Northern Ireland from an amber country, either directly or via another country, including British and Irish nationals returning home, you must:
provide proof of a negative COVID-19 test result taken up to three days before departure
book post-arrival testing
complete a UK passenger locator form 48 hours before departure
self-isolate for 10 days
Click here for full details on arriving from an amber list country.
Travelling from a red country
Only British, Irish nationals or those with residency rights in the UK are permitted to travel to Northern Ireland from a red list country.
If you plan to travel to Northern Ireland having been in, or transited through one of the countries above in the previous 10 days, you must:
provide proof of a pre-departure negative COVID-19 test
complete a UK passenger locator form 48 hours before departure
book and enter managed isolation (hotel quarantine) for 10 days
Click here for full details on arriving from a red list country
Please check with individual transport providers for the latest information and precautions you need to take before planning a visit.
Visit Belfast Welcome Centre and Visit Belfast Airport Information Points
The Visit Belfast Welcome Centre is open. The airport information points remain closed on Sundays but are open all other days in line with key flight times. Click here for opening hours and further information.
Visitors can email queries to info@visitbelfast.com or telephone 028 9024 6609. You can also tweet your queries using #AskVisitBelfast.
*Please note the Ticketmaster desk at Visit Belfast is now closed – customers can apply for a refund directly from Ticketmaster via this link.*
Navigating Belfast Safely
Face coverings
The use of face coverings when you are in a public area indoors, such as in a shop or attraction, when social distancing is not possible, is mandatory, with exemptions for certain groups. Please click here to find out more.
Face coverings are also mandatory when using public transport across Northern Ireland – for more info click here.
Before you travel, our advice is to contact individual providers for up to date opening information. Anyone seeking visitor information can contact the Visit Belfast Welcome Centre and one of our travel advisors will be able to help.
For the most up to date information, advice and guidance, visit:
Travelling Safely around Belfast / Northern Ireland
Before you decide to travel we recommend you plan ahead. Consider where you're travelling to and how easy it will be to maintain social distance on your journey and at your destination. It is more difficult to maintain social distancing in crowded areas. Thinking about this before you travel can help protect yourself and others.
Things to consider:
Can you walk or cycle to the destination?
What's the latest travel advice from my transport operator?
Can you book your ticket online, or is contactless payment is possible?
Can you avoid crowded areas
What's the most direct route to my destination?
Value Cabs
Value Cabs continue to operate 24/7 and have added a range of delivery services too. They've also adopted a number of measures to ensure the safety of their passengers and drivers. This includes a maximum of three passengers per taxi only, and interior touch point clean downs between journeys. Protective screens have been fitted in many of their taxis and vehicles fitted with screens are available upon request – passengers must also wear face coverings. Download the app (valuecabs.co.uk/app) or call 028 9080 9080.
Bus and Rail Services
Since 10 July 2020 it has been the law to wear a face covering when using public transport services.
Passengers and staff must wear a face covering:
on bus, coach and train services
in public transport stations
For more information on bus and rail services provided by Translink visit translink.co.uk .
Advice for Visitors Currently in Belfast
Visitors who have concerns while here in Northern Ireland should contact the special coronavirus helpline on 0300 200 7885.
If it is a medical emergency, call 999 and inform the call handler of your recent travel.
If you are NOT registered with a GP in Northern Ireland, you'll find important information available via the NI Direct website which you should refer to.
Many tourism and hospitality businesses have now reopened, but some restrictions remain dependent on the venue. Check below for information on how businesses are able to operate, and remember to check out our Belfast Reopening blog for ideas on how to enjoy Belfast safely!
Visitor attractions
Indoor and outdoor visitor attractions are now permitted to open, including theatres, concert halls and other seated indoor venues. Contact details will be required for contact tracing purposes.
A minimum of one metre social distancing must be adhered to at indoor attractions and outdoor attractions are strongly advised to implement social distancing too.
Many businesses require advance booking, or are operating on reduced opening hours, so please check with the business before planning your visit. If you plan to attend any kind of performance or concert, you must buy a ticket in advance.
Hospitality businesses
Businesses are now permitted to serve both outdoors and indoors. A maximum of six people from up to six households can sit together.  Up to ten people may sit together if they are all from the same household. These numbers do not include children.
Venues will also be required to collect customer details to help with the Test, Trace, Protect contact tracing programme.
Social distancing measures of one metre between tables will be in place, and face coverings are required when not seated. Live music can only be performed at ambient levels. Please check with the venue to confirm if pre-booking is required.
Face coverings must be worn if you leave your table to pay or to access toilet facilities, unless exempt.
Retail
All shops are able to open fully. You must wear a face covering when you go to any retail premises, including any indoor area of a shopping centre, unless exempt.
Accommodation
All types of tourism accommodation can open.
Up to ten people from no more than three households can stay together overnight. Children aged 12 and under are not counted in this number. Accommodation providers will be required to collect guest details to help with the Test, Trace, Protect contact tracing programme.
Meetings, weddings, receptions and gala dinners are allowed, following a risk assessment.
Good To Go Accreditation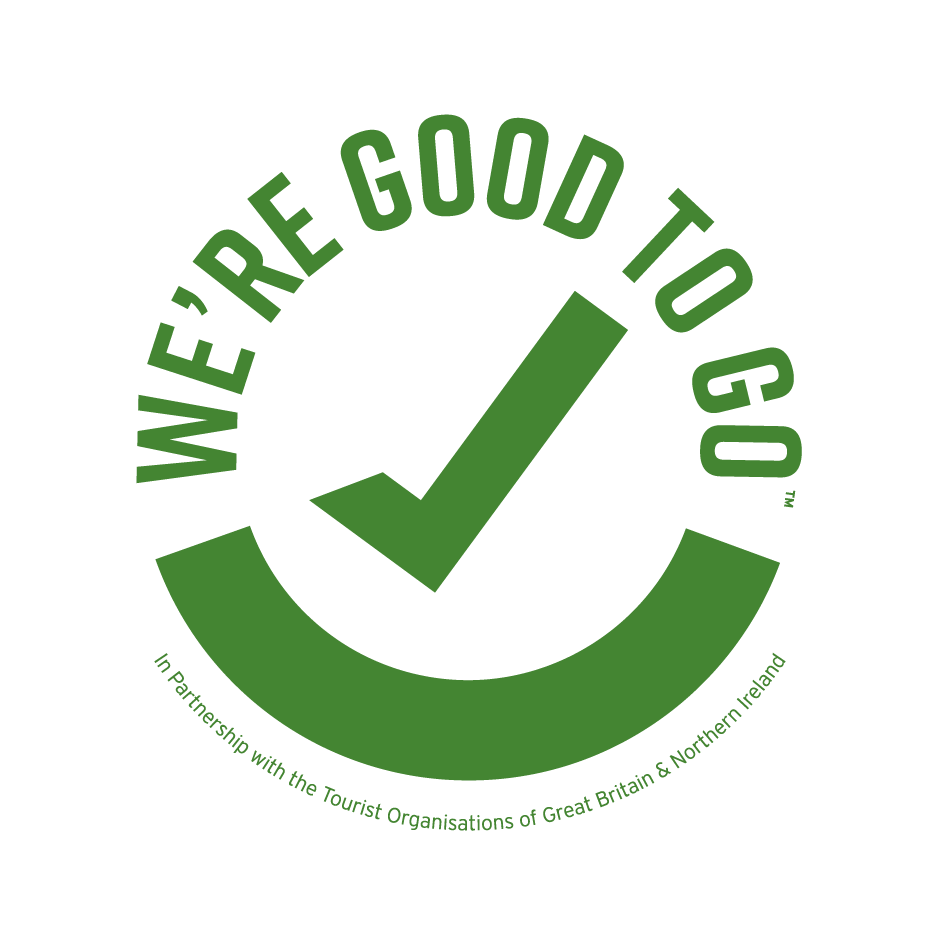 The "We're Good to Go" industry standard for tourism and hospitality businesses is in place throughout Belfast. When you see a business is "Good to Go", you know that they are committed to operating safely so you can enjoy a visit with total confidence. Find out more >>
Please note: You should comply with all travel restrictions in place for your region/country. Please check the appropriate guidance at both the point of departure and arrival before leaving home. Non-compliance may lead to a fine or prosecution.
For travel information, our visitor advisors remain on hand to answer your queries – please email info@visitbelfast.com or call 028 9024 6609.
If you are a tourism partner, please refer to this page for updates.
Please check this page for further updates, and we very much look forward to welcoming you to Belfast soon.
Advice for Industry Partners
Visit Belfast partners should click here for relevant information, advice and resources regarding coronavirus.
We're here to help. If you can't find the information you're after, please ask us here.