Belfast Free Walking Tour
Description
Belfast Free Walking Tour is the only local, independent free tour company in Belfast.
All of the guides love to share their city and its stories with visitors. On the tour, explore the history of the city and its people, visiting iconic landmarks. The tour will discuss Belfast's troubled history, languages, culture, the 1798 rebellions, legends and folklore and much more.
Please Note:
Tour departs from City Hall , Opposite "Visit Belfast" Tourist Office every day at 11 am, & 2.30 pm.
Unit 15 Duncrue Industrial Estate
Duncrue Road
Belfast
Antrim
BT3 3BP
Find Out More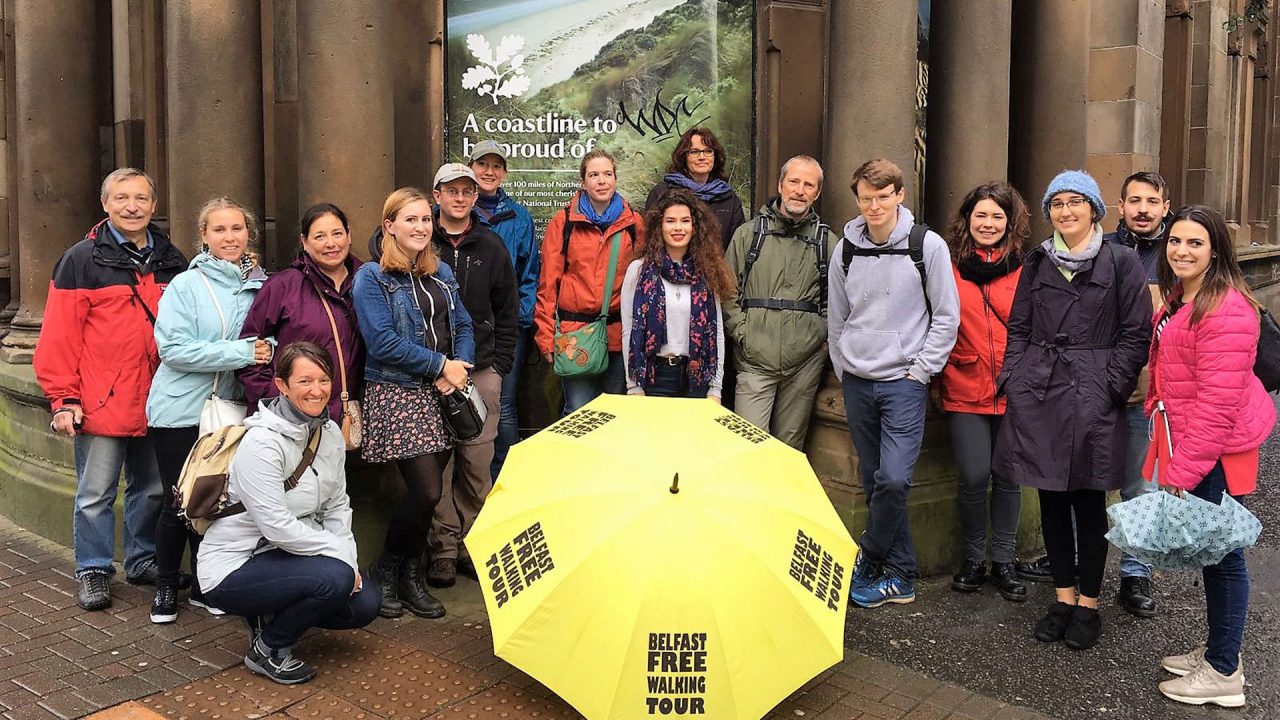 Upcoming events at Belfast City Hall
Self Guided Tour

02 Feb - 03 Jul 2023

The Queen's Quarter Walking Trail explores the unique and fascinating heart of the University district in South Belfast.

Find Out More

Self Guided Tour

02 Feb - 03 Jul 2023

DC Tours latest self-guided tour is 'Your Belfast', an immersive (and free) self-guided tour of Belfast city centre.

Find Out More

Self Guided Tour

02 Feb - 03 Jul 2023

The Titanic Trail on the Maritime Mile is now available on the DC Tours app. Free to download.

Find Out More

Self Guided Tour

02 Feb - 03 Jul 2023

 The 'Line of Duty Locations Trail' is a free tour for devotees of the hit BBC crime drama…

Find Out More

Art and Exhibitions

02 Feb - 03 Aug 2023

Bradley Art gallery will be open the first Thursday of every month until 9pm.

Find Out More

4 Corners Festival

02 - 05 Feb 2023

A photographic exhibition which aims to increase awareness of and encourage discussion around the grim reality of homelessness…

Find Out More

NI Science Festival

02 - 25 Feb 2023

Belfast-born artist Raymond Watson's exhibition reflects on the importance of bees to mankind and life on earth. Free…

Find Out More

Art and Exhibitions

02 Feb - 25 Mar 2023

Belfast Exposed presents a journey along the former Iron Curtain from Polish-born documentary photographer Zula Rabikowska. curated by…

Find Out More

Art and Exhibitions

02 Feb - 18 Mar 2023

In February 2023, Belfast Exposed presents an exhibition of new work by the socially engaged artist Anthony Luvera,…

Find Out More

4 Corners Festival

Thu, 02 Feb 2023, 2:00pm

An immersive video & audio installation exploring themes of dreams, aspirations & leadership from the perspective of PUL…

Find Out More