Fratelli Movie Night: Top Gun
Description
Gather up your besties or make it a date night, because movie nights at Fratelli are back!
Catch the original classic of Top Gun on Friday 14th October after grazing on a delicious two-course meal and a complimentary drink. While away the evening as your movie makes it to the big screen. Trust us, you won't want to miss this!
Dinner served at 6pm & 6.30pm and movie screening at 8pm.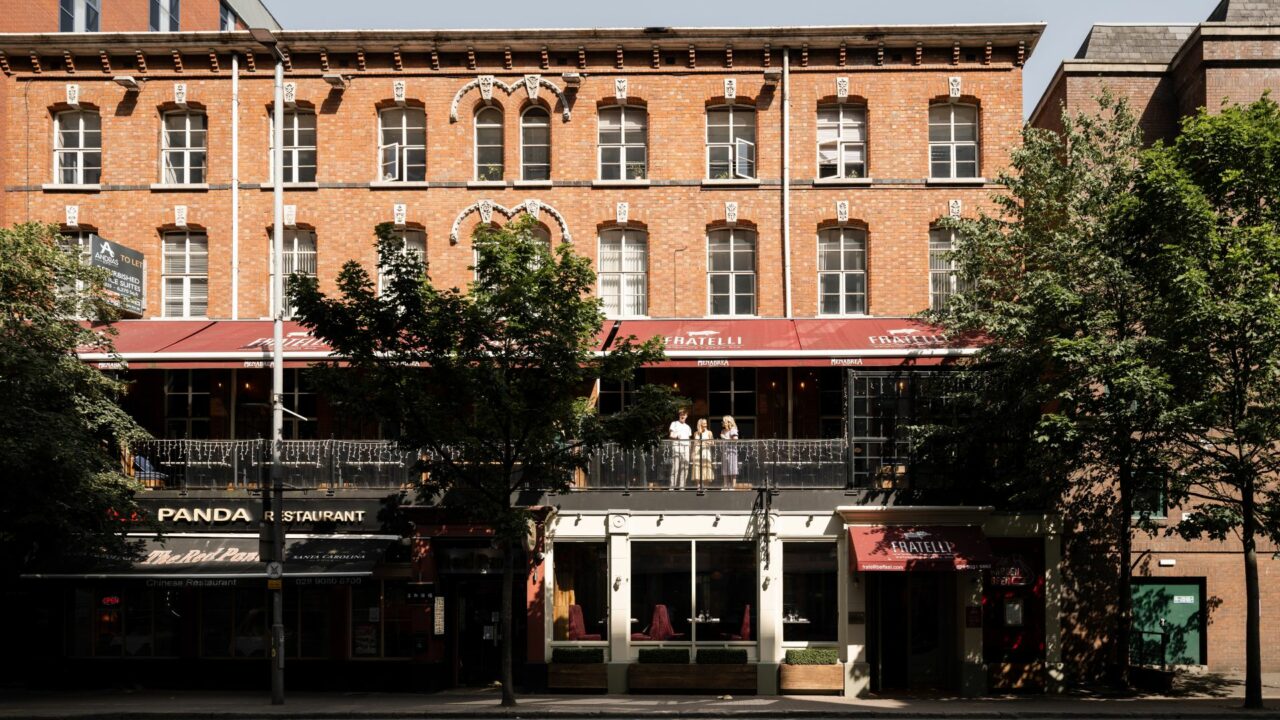 Upcoming events at Fratelli Belfast, Ristorante, Pizzeria & Bar
Food and Drink
Fri, 14 Oct 2022, 6:00pm
Catch the original classic of Top Gun on Friday 14th October after grazing on a delicious two-course meal…
Find Out More
Food and Drink

02 - 31 Oct 2022

HartyCulture foraging tours are gentle walks to discover what nature offers you seasonally, sampling new flavours and surprising…

Find Out More

Belfast City Centre Events 2022

02 Oct 2022 - 30 Apr 2023

Join Taste and Tour on a 3-hour grazing style Sunday Belfast Brunch Tour in the city's finest quirky…

Find Out More

Food and Drink

02 Oct 2022 - 28 May 2023

Interested in finding out how you make beer on top of a pub? Head to Out of Office…

Find Out More

Food and Drink

02 Oct - 30 Dec 2022

Belfast Artisan Gin School is a fun experience where you make your own bespoke recipe, full size bottle…

Find Out More

Art and Exhibitions

02 - 31 Oct 2022

Described as a fabulous introduction to help you plan the rest of your time, in a fascinating city…

Find Out More

Pubs and Clubs

03 Oct 2022 - 29 May 2023

Join in the fun at Fountain Lane every Monday at Fountain Lane for their weekly quiz! Grab a…

Find Out More

Food and Drink

04 - 29 Oct 2022

Learn the tricks of the trade at the Cookery School at Waterman House as local chefs share their…

Find Out More

Food and Drink

05 Oct - 07 Dec 2022

Join on the first Wednesday of every month for The Deer's Head Whiskey Club, with special guests every…

Find Out More

Food and Drink

06 - 29 Oct 2022

A German Beer Festival which is a small imitation of the World-Famous Oktoberfest in Munich taking place at…

Find Out More

What's On Featured

06 Oct - 03 Nov 2022

Enjoy pizza and pottery in Crawfordsburn, giving you the chance to get creative before having some artisan wood…

Find Out More