Description
At Lagan Adventures you will be taking cycling off the road and onto the relative safety of the water.
Explore the Belfast Waterways at night with the Belfast Hydrobikes by Lights. This is a new and unique water experience where you really will see Belfast and the River Lagan from a completely different perspective.
This is the only experience Belfast's Historic River Lagan Waterway and it is a unique way for visitors to see Belfast and the its historic Waterfront, Harland and Wolf Cranes, Obel Tower, historic bridges, canal structure and much more. All the more magnificent at night
Hydrobiking is a fun safe activity which allows visitors to explore the River Lagan without getting wet. So you are free to head on to other Belfast activities, restaurants and attractions after.
Hydrobikes provide a gentle, low-impact aerobic total body workout; but it all depends on how fast you pedal. Take a Hydrobike out for a leisurely ride, a fast cardio workout, photography session, or fishing.
Hydrobikes are a perfect way to experience water sports. Hydrobikes are super dog friendly, and your furry friend will love the ride as much as you will.
Lagan Adventures is located beside the Waterfront Hall Belfast,.
Hydrobikes Available
Single Hydrobikes – Suitable for Age 8+ with a 24 inch inside leg to reach pedals
Tandem Hydrobikes – Suitable for 2 Adults or for kids under 8 with an Adult. Everyone still needs a 24inch inside leg to reach pedals
Adult and Child Bike – Bike has a side seat suitable for Age 4+
Frequently Asked Questions
Is there a height restriction? Riders need to have a 24inch inside leg in order to reach the pedals
What is the age restriction? Min age for a single bike is 8 but they also need a 24inch inside leg to reach pedals.
Can younger children participate? Yes. They have an adult and child bike which has a side seat or on tandem if the child has the correct leg measurement and is accompanied by an adult.
Do I need to be able to swim? No. Lifejackets are provided and safety boats are on hand. Hydrobikes are very stable so you should not be in the water.
What is the cost? Prices are on their website laganadventures.com this includes all their group rates. You can book online.
What do I wear? You can just wear normal clothes, wetsuits or swim wear is not required.  Hydrobikes are very stable so you should not be in the water.
Where are they located? They are situated beside the Waterfront Hall.
Belfast Waterfront Hall
1 Lanyon Place
Belfast
Antrim
BT1 3LG
Find Out More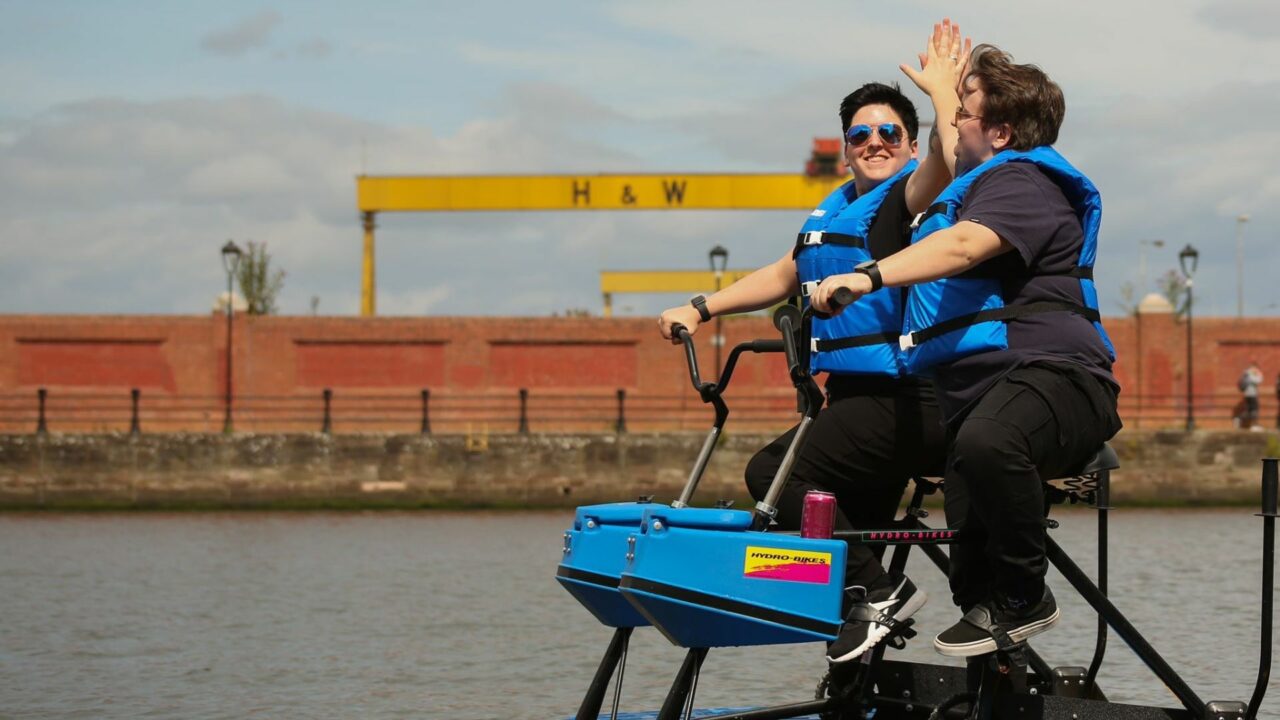 Upcoming events at Lagan Adventures – Belfast Hydrobikes
Family Friendly
07 - 31 Dec 2022
At Lagan Adventures you will be taking cycling off the road and onto the relative safety of the…
Find Out More
Christmas
08 - 23 Dec 2022
This Christmas, peddle up the Lagan in your very own hydro bike and meet Santa with Ireland's most…
Find Out More
Christmas

05 - 24 Dec 2022

Making Christmas Magical at CastleCourt, Belfast. Join CastleCourt for family fun, Santa's Grotto and festive shopping this Christmas.

Find Out More

Christmas

05 - 24 Dec 2022

Visit Santa at his enchanted grotto in Hillmount Garden Centre. His magical elves will be on hand to…

Find Out More

Christmas

05 - 24 Dec 2022

Christmas doesn't really begin until it begins at Victoria Square.Join them on 12 & 13 Nov to kick…

Find Out More

Christmas

05 - 24 Dec 2022

Christmas doesn't really begin until it begins at Victoria Square. Victoria Square's Christmas Fayre will take place from…

Find Out More

Tours

05 Dec 2022 - 27 Feb 2023

Experience Belfast from onboard an open top double decker bus & enjoy stunning 360 degree panoramic views.

Find Out More

Belfast City Centre Events 2022

05 Dec 2022 - 04 Jul 2023

Experience a comfortable cycle through beautiful Belfast. Each tour with Belfast Bike Tours is unique and guests can…

Find Out More

Art and Exhibitions

05 Dec 2022 - 27 Feb 2023

Van Gogh: The Immersive Experience is a 360-degree digital art experience, brought to life by Exhibition Hub and…

Find Out More

Christmas

05 - 22 Dec 2022

The global Belfast Christmas Market returns to City Hall Gardens, bringing with it a traditional taste of Christmas.…

Find Out More

Children's Events

05 - 24 Dec 2022

Add a little magic to the festive season with a visit to see Santa Claus, at CastleCourt Shopping…

Find Out More

Christmas

05 - 24 Dec 2022

Look out for alternative Christmas trees, homemade decorations and go for a winter wander as you look forward…

Find Out More