Nowhere to Hide: Clann Naofa Boxing Acadamy | Docs Ireland
Description
Clann Naofa Boxing Academy, Dundalk, Co Louth was established in 2006 by Jim O'Neill, formerly of the Lower Falls, Belfast.
Jim's aim was to provide an opportunity for young people from the sprawling working-class estate which was greatly lacking in facilities. In the intervening years Jim has not only helped train Katie Taylor and Katie Harrington but has produced his own local champions, Déarbhla Tinnelly and Evelyn Igharo.
Documentary Screening.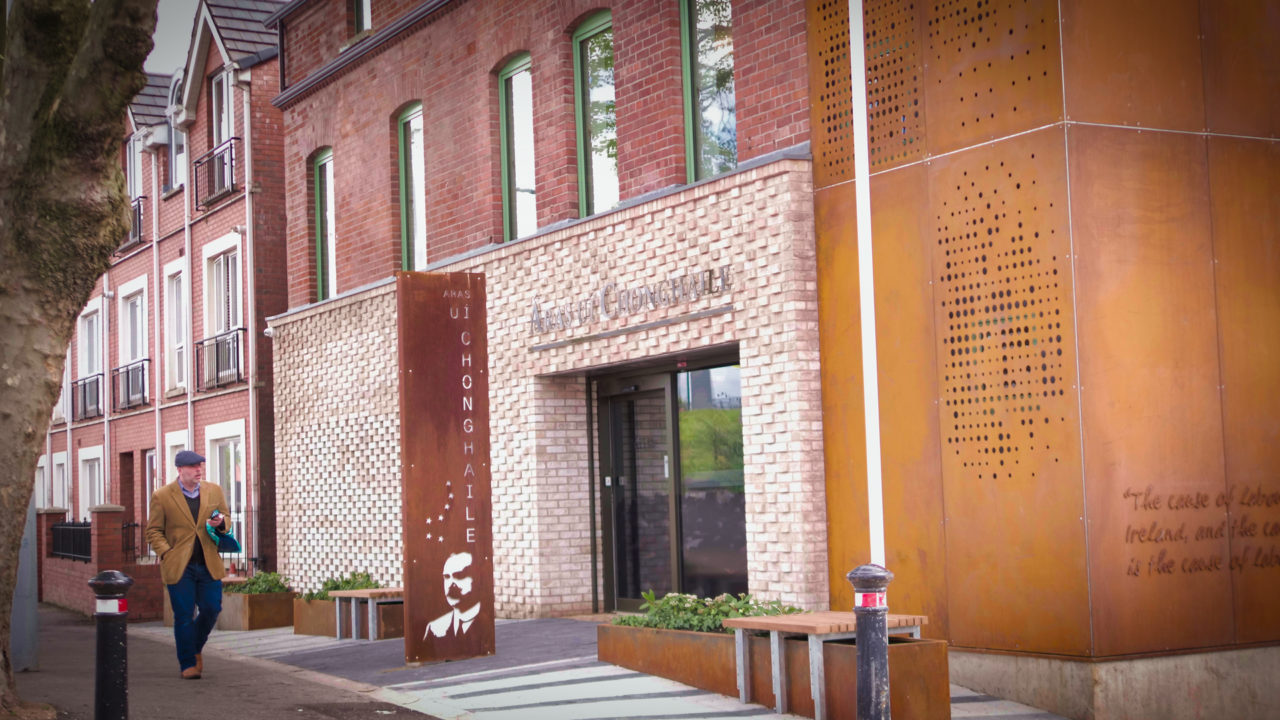 Upcoming events at Áras Uí Chonghaile (James Connolly Visitor Centre)
Docs Ireland
Sat, 02 Jul 2022, 4:30pm
Clann Naofa Boxing Academy, Dundalk, Co Louth was established in 2006 by Jim O'Neill, formerly of the Lower…
Find Out More
Films
Sat, 02 Jul 2022, 2:00pm
We Never Gave Up is the third in a trilogy of documentary films following the lives of eleven…
Find Out More
Docs Ireland

Fri, 01 Jul 2022, 2:30pm

Seamus Murphy's documentary examines Irish writer Pat Ingoldsby's unique world. Part of Docs Ireland's documentary festival.

Find Out More

Docs Ireland

Fri, 01 Jul 2022, 3:00pm

Please join the Belfast Film Festival for screenings of Ulster University Screen Production students' final year documentaries.

Find Out More

Docs Ireland

Fri, 01 Jul 2022, 3:15pm

An observational documentary set in a primary school in the often marginalised area of the Ardoyne in North…

Find Out More

Docs Ireland

Fri, 01 Jul 2022, 4:30pm

Experienced European documentary producers, well versed in the art of co-production, to discuss the process of working with…

Find Out More

Docs Ireland

Fri, 01 Jul 2022, 6:00pm

Arena: James Joyce's Ulysses reveals all the tawdry, shocking, poetic, uplifting and gloriously kaleidoscopic humanity of this literary…

Find Out More

Docs Ireland

Fri, 01 Jul 2022, 6:15pm

Previously unseen hours of pristine 16-millimeter film and thousands of photographs reveal the birth of modern volcanology through…

Find Out More

Docs Ireland

Fri, 01 Jul 2022, 7:00pm

This short documentary explores the lives of first and second generation immigrants who now call Ireland their home.

Find Out More

Docs Ireland

Fri, 01 Jul 2022, 7:00pm

In conversation with Dr Jolene Mairs Dyer from Ulster University, Kim will discuss and share clips from a…

Find Out More

Films

Fri, 01 Jul 2022, 7:30pm

This unseen piece of music history was long thought lost - but was recently found and this 4k…

Find Out More

Docs Ireland

Fri, 01 Jul 2022, 8:30pm

What is the worst thing that you could ever hear from an ex? How To Tell A Secret…

Find Out More