54.596423
-5.929466
Description
Dalriada Kingdom Tours create and deliver a range of unique experiences around the Causeway Coast and Wild Atlantic Way.
Dalriada Kingdom Tours specialise in the luxury and ultra-luxury markets, guiding for couples and small family groups. They help create and deliver itineraries that are packed full of exclusive experiences and special moments. Protecting the integrity of your company and enhancing the visitor experience is of paramount importance. The business is built on family history and the support of the community to continue the finest traditions of Irish hospitality established by them on the Giants Causeway centuries ago. They adopt a flexible approach to cope with the needs and wishes of your group, and have the experience and ability to look after your clients in a safe relaxed manner, at a pace they will enjoy.
Uniquely, this tour connects the Causeway Coastal Route with the Wild Atlantic Way - areas packed with iconic locations, Glenarm Castle, Carrick-a-Rede rope bridge, the Giants Causeway, Dunluce Castle, Grainan Fort, and Sliabh Liag to name a few. There are lots of hidden gems to discover and your group will be guided around them all, bringing these amazing places to life with insights from the past. Dalriada Kingdom Tours is the only company in Ireland that provide a guided walking tour on the Giants Causeway site. There are no queues and no unnecessary fuss. Discretion and trustworthiness are assured.
Guests will be accompanied by Mark Rodgers, an internationally recognised guide along the Causeway Coastal Route. You will access areas that are usually off limits and gain privileged information that gets to the very core of this wonderful part of Ireland. Your guests will experience something special leave feeling emotionally connected to Ireland. Travel with Mark as he tells his stories and experience an amazing adventure.
Central to every experience is the people you will meet, who share an eclectic mix of cultures, history and heritage. Dalriada Kingdom Tours works with established service providers who are the best at what they do, to provide authentic Irish experiences in the most engaging manner.
Current Tours on offer:


Dander with Dalriada


Beyond the Bridge


Available as full day and half day tours.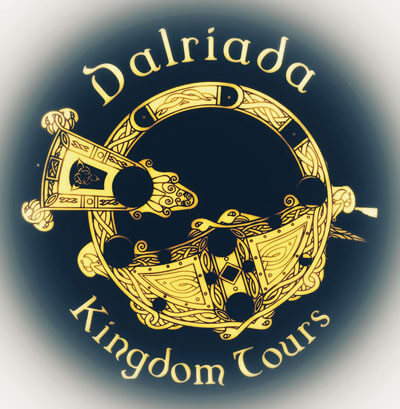 Top Reasons To Visit
The Causeway Coastal Route & The Wild Atlantic Way are internationally recognised areas of outstanding natural beauty
Both areas offer iconic sites, hidden gems, unique accommodation and outstanding food and drink for our guests to enjoy.
The history is unique with strong links to America from Ulster Scots and Famine emigration periods
Your company can enhance the experience for your clientele by working with a local expert
A range of unique services designed to create emotional connections
Exclusive Tours

Current Tours on offer:

Dander with Dalriada
Beyond the Bridge

Available as full day and half day tours.

Covid-19 Compliance

Guidelines-The health and safety of  tour guides and guests is of vital importance. DKT have attained the 'Good to Go' industry quality accreditation and have implemented the following steps to ensure that your tour is as safe as possible:

Social Distancing – Tour Guides will maintain social distancing from guests during the tour in accordance with government guidelines. Currently the recommendation is 2 metres, like everything else this could change very quickly, and they will be able to adapt to any changes. They ask that you also maintain the appropriate social distance in your group and the other guests on the tour.

Capacity Limitations – Tours are operating within strict guidelines and that means they have a limited capacity as per government guidelines (currently a maximum of 10 guests per tour).

PPE & sanitisation – Guided Tours are mostly conducted outdoors and that negates the need to wear a mask as a compulsory measure. However, on occasions a tour may start inside a building and on those occasions, you are asked to wear a mask. All guides have been given approved face shields to wear inside buildings and have the choice to wear them for the duration of the tour. Guides will also carry hand sanitiser which will be available to guests at all times.

Staff Health – Guides will declare every day that they are fit and well and are not experiencing any illnesses or displaying any systems of Covid 19.

Guest Guidelines – Should you or any member of your group feel unwell please postpone your visit.  Your details will be recorded for track and trace purposes, and these will be stored in accordance with government guidelines. In an outdoor environment masks are not considered essential, as previously stated indoors they are considered essential. DKT appreciates that guests may want to wear their own masks for the duration of the tour, for the comfort and safety of the guides and other guests. If you need to cough or sneeze during a tour, please do so into a tissue or your elbow.
Activities

When visiting Belfast, why not take a walk in the beautiful hills which look down on the city,…

Find Out More

See & Do

Inspired by the 'Crystal Maze' Prison Island Belfast has 25 different prison-themed challenge cells. It's a totally unique…

Find Out More

Activities

Enjoy a great day out at Dundonald International Ice Bowl with a host of fantastic activities all under…

Find Out More

See & Do

Axe Yard Urban Axe Throwing Belfast is an awesome activity where you get to throw real axes at…

Find Out More

See & Do

Thunder Park is the epicentre for alternative sports in Ireland. A place to learn, develop, improve and push…

Find Out More

See & Do

Andersonstown Indoor Aqua Park is the largest centre of its kind in Northern Ireland, offering three high speed…

Find Out More

Activities

Bridges Urban Sports Park has skateboard, in-line skating, parkour and BMX facilities.

Find Out More

Activities

Royal Portrush Golf Club is home to one of the best and most challenging links golf courses in…

Find Out More