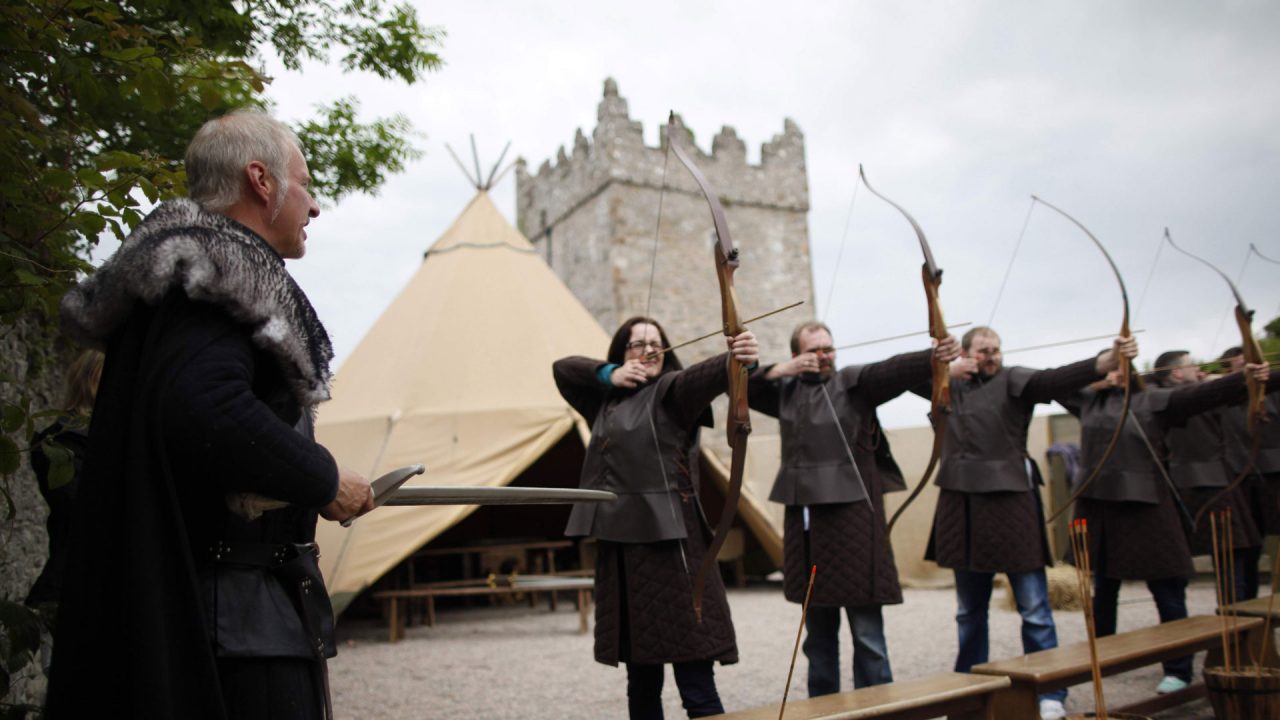 Archery Movie Set Experience at Winterfell
Tel: 028 4372 3933
From £29 per person
Go on location and shoot a few arrows in Ned Stark's own backyard in the Winterfell Archery Range where Bran learned to shoot bow and arrow! An exact replica of the 'Winterfell Archery Range' has been masterfully recreated in our courtyard in the very same spot that the filming took place, transporting you into the world of Westeros. Dress up in character costume and step into the movie set – don't forget your camera!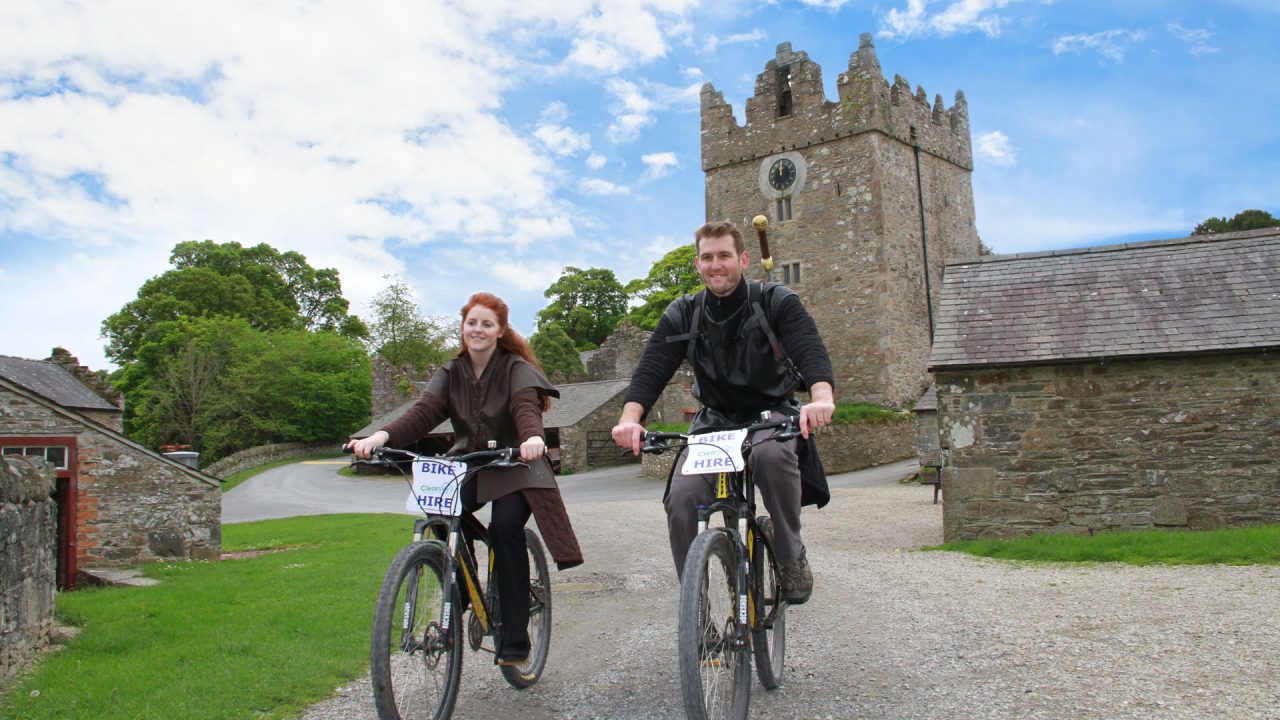 Game of Thrones Filming Location Cycle Tours
Tel: 028 4372 3933
From £38 per person
Discover filming locations on a self-guided cycle trail of Westeros, and see the spots used for King Roberts arrival, Bran's fall from Winterfell Castle and Robb's Camp. Price includes bike hire for up to 2.5 hours and 'Stark Sack' (consists of 2 cloaks, 2 swords, medieval scroll movie map and iPad digital guide).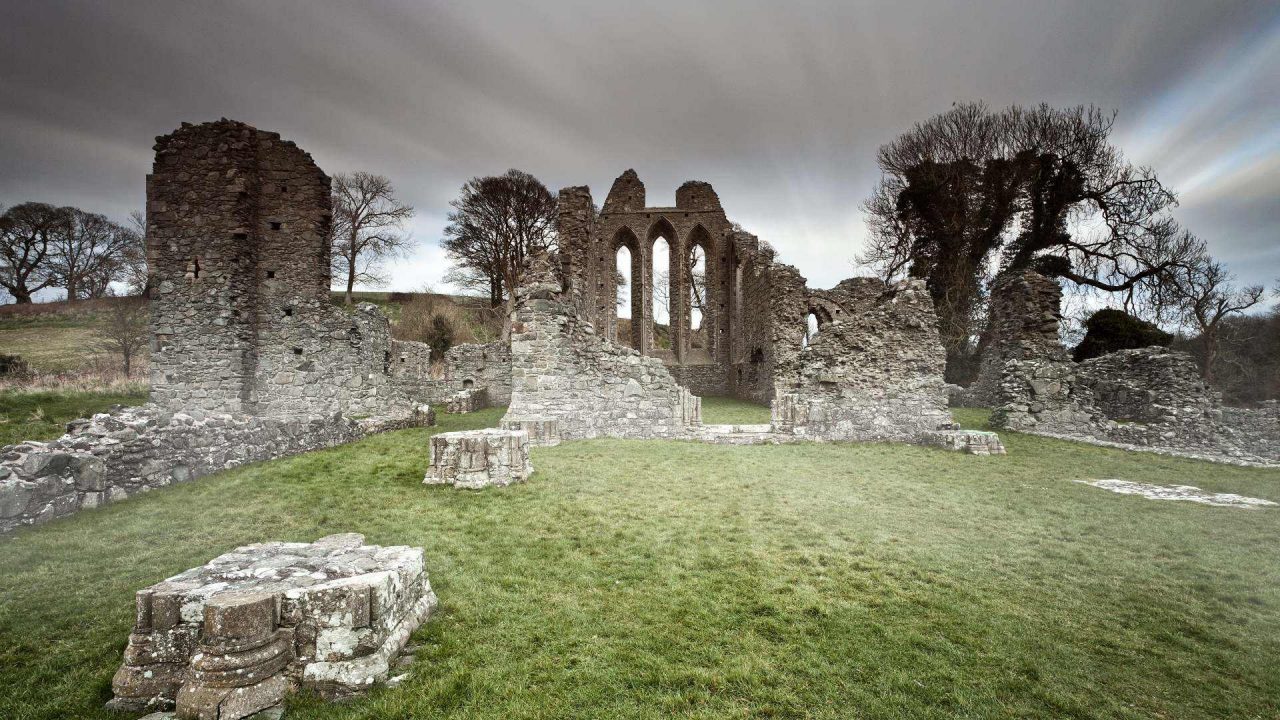 Winterfell Locations Trek with Game of Thrones Tours
Daily 8am – 6pm from Jurys Inn Hotel
£45-£50 per person
Tel: 028 9568 0023
Opt for the Winterfell Locations Trek, a full day coach tour to Game of Thrones® filming locations including Winterfell, where you'll see Robb's Camp in the Riverlands, one of Walder Frey's Twins, the ruined 12th century abbey where Robb's bannermen pledged fealty to the King in the North and the old forest where the Starks found a dead direwolf and her pups. Stark Cloaks, swords, shields and helms are available for everyone at no extra cost. Immerse yourselves in the costumes and mood of the North.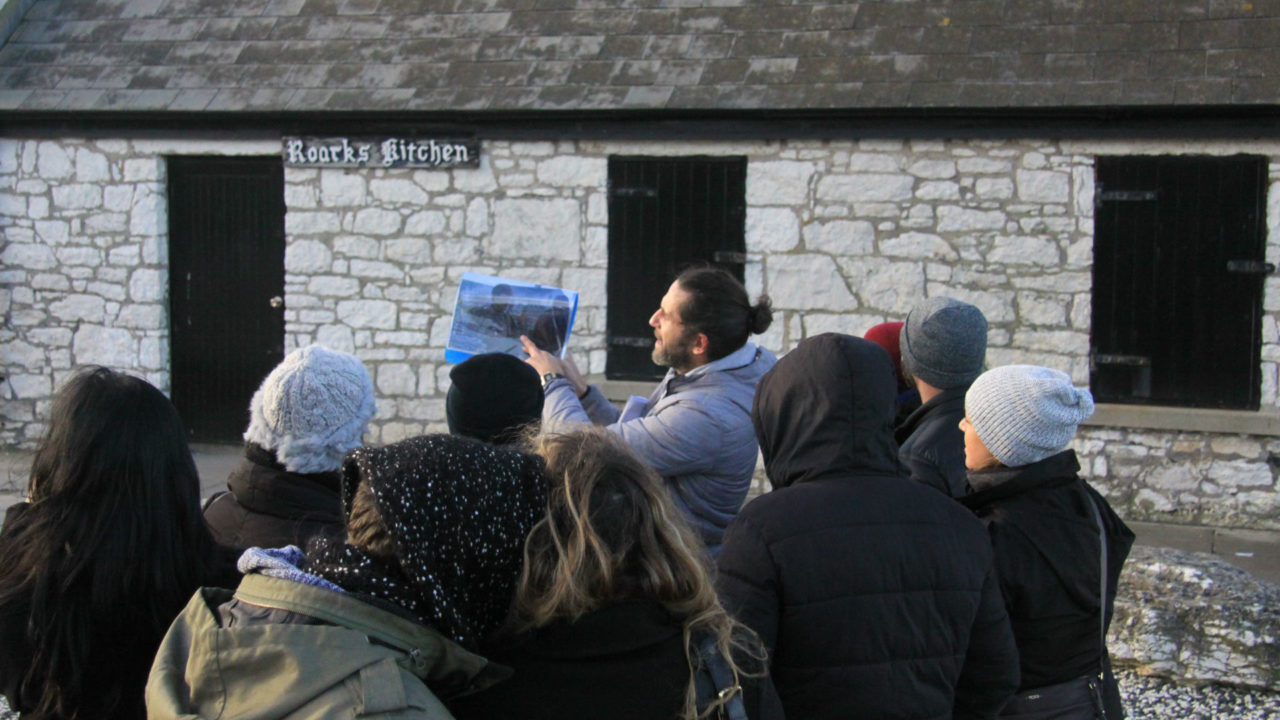 Game of Thrones Location and Giant's Causeway Day Tour
Daily with pick up from Chichester Street, Belfast at 9.15am
£45 per person
Tel: 00353 1868 4101
Join Finn McCool Tours for a trip to two major Game of Thrones filming locations and the Giant's Causeway. First stop is the Dark Hedges, the scene of Ayra's escape from King's Landing to the North and the location used to film scenes on King's Road. Then stop at Ballintoy Harbour which was used for scenes including Theon's return to Pyke and Balon Greyjoy's burial, before heading to the Giant's Causeway; a UNESCO World Heritage Site and Northern Ireland's most popular visitor attraction.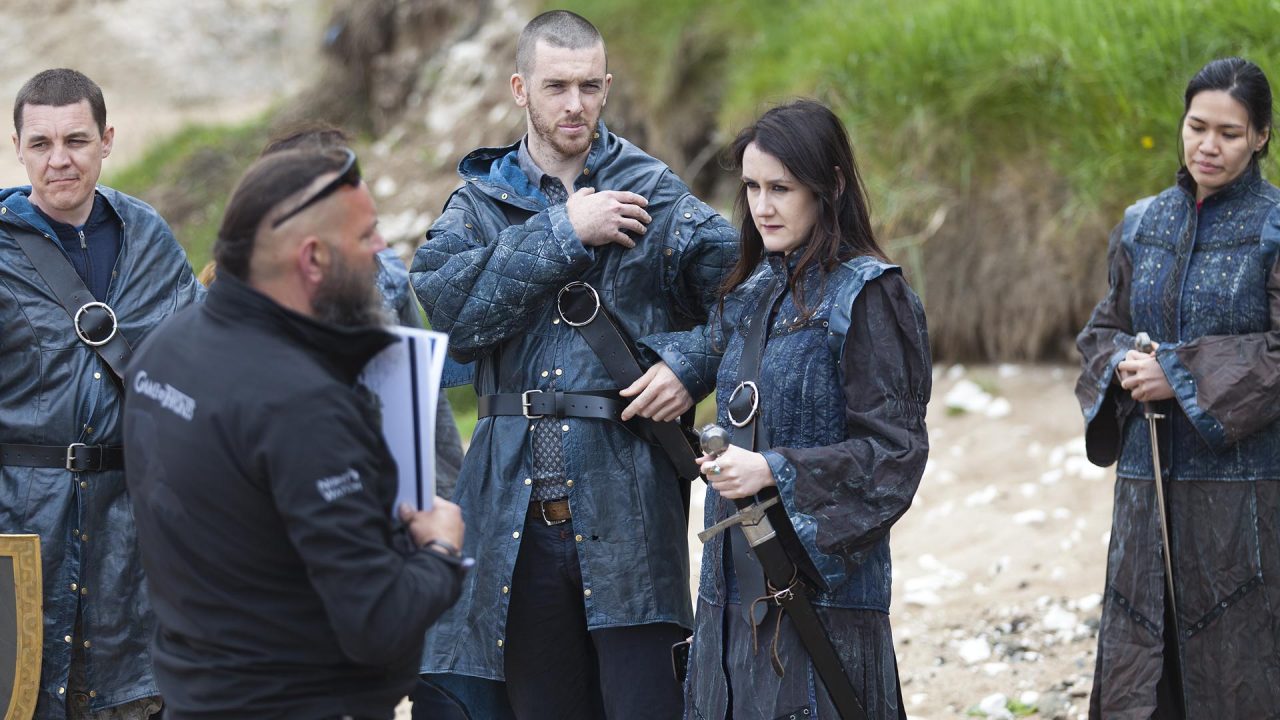 Iron Islands and Causeway Adventure Tour
Daily 8am – 6pm from Jurys Inn Hotel
£45-£50 per person
Tel: 028 9568 0023
Game of Thrones Tours offers an Iron Islands and Giant's Causeway Adventure, to the North coast, where stops include Carrick-a-Rede Rope Bridge and Giants Causeway. Iron Islands costumes, swords and other props on the coach make for excellent photo opportunities at some of Northern Ireland's most recognisable sights including Dunluce Castle and the Dark Hedges, plus you'll discover Renly's Camp and the Iron Islands where the Greyjoy's come from.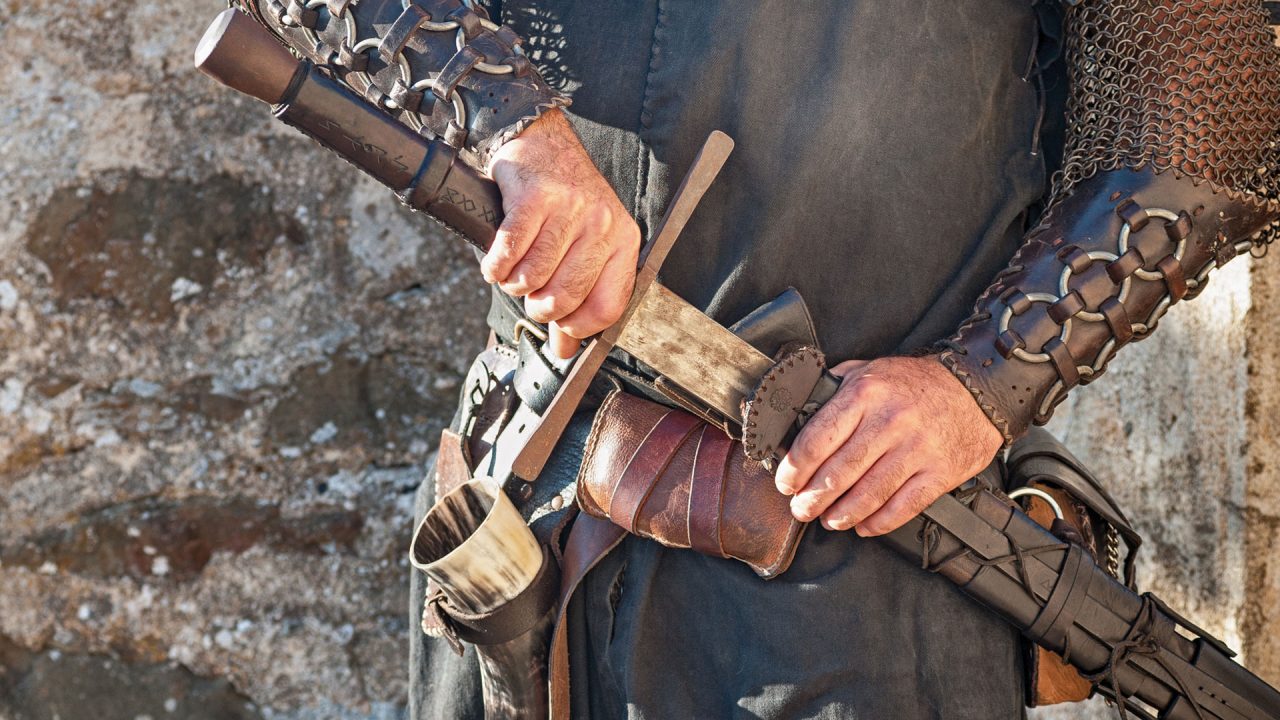 Game of Thrones Filming Locations Tour
Daily 9am – 6:30pm from Great Victoria Street
£35 per person
Tel: 028 90310101
Book a fully guided, all day tour taking in the best of the Game of Thrones filming locations on the beautiful North Antrim coast. Although there are seven designated stopping points, the tour also weaves past and takes in other well known parts of Westeros. See first hand the stunning scenery featured as the backdrop in the HBO's series when you join us for an unforgettable day visiting some of Northern Ireland's main Game of Thrones filming locations.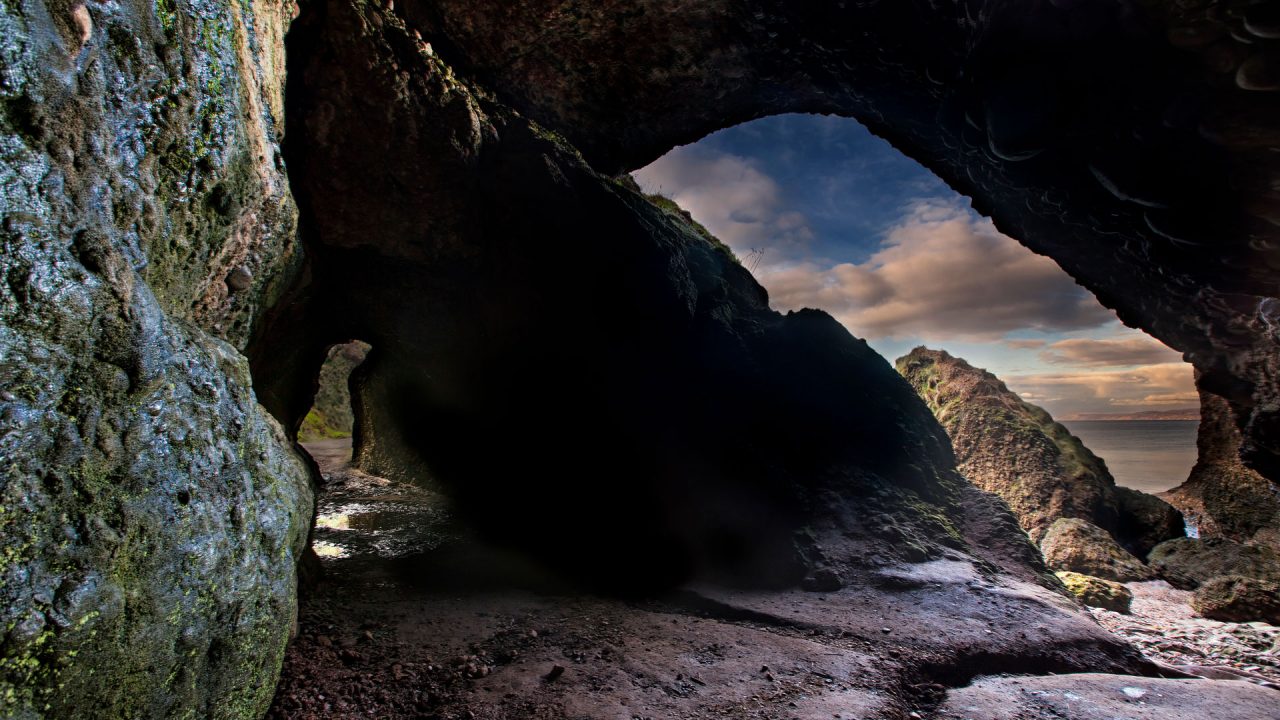 Value Cabs Game of Thrones Taxi Tour
Private booking only, pickup on request
Tel: 028 9080 9080
£210
Starting at your desired location this tour will head to Co. Londonderry then onto 5 other key locations around the North Coast where you will have the opportunity to visit some of the most recognizable filming locations of the hit HBO series. You can sit back, relax and let the experienced drivers talk through the planned route or alternatively you can alter the tour to suit your needs. Some options are Downhill Beach (Dragonstone), Larrybane and Carrick-a-Rede (The Stormlands), Ballintoy Harbour (Pike), Murlough Bay (Storms End), The Dark Hedges (Kings Road) and The Cushendun Caves (The Stormlands). Total Price from £210.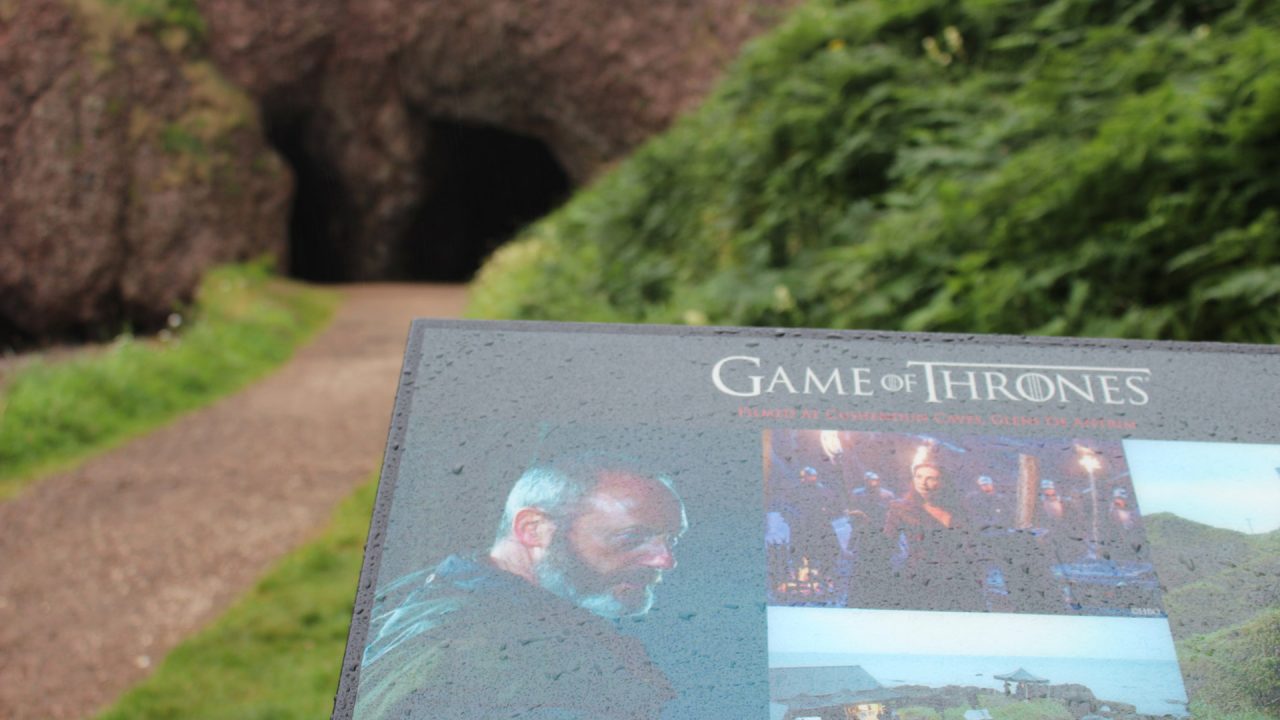 Game of Thrones Tour of the North & Giant's Causeway
Departing from Irish Tour Tickets, Great Victoria Street, 9am daily
£45 per person

The hugely popular Game of Thrones TV series, adapted from George RR Martin's A Song of Ice and Fire novels, is filmed all over Europe, with many of the key locations are based in Northern Ireland. Highly recommended on Trip Advisor, during the Game of Thrones Tour in Belfast you will get the chance to see seven iconic sites from series one to seven from your very own maester. You will also get to explore some of the gems of Northern Ireland such as Carrick-a-Rede, the Dark Hedges and the Giants Causeway and be able to walk into the caves where Melisandre of Asshai gave birth to her shadow assassin who went on to slay Renly Baratheon!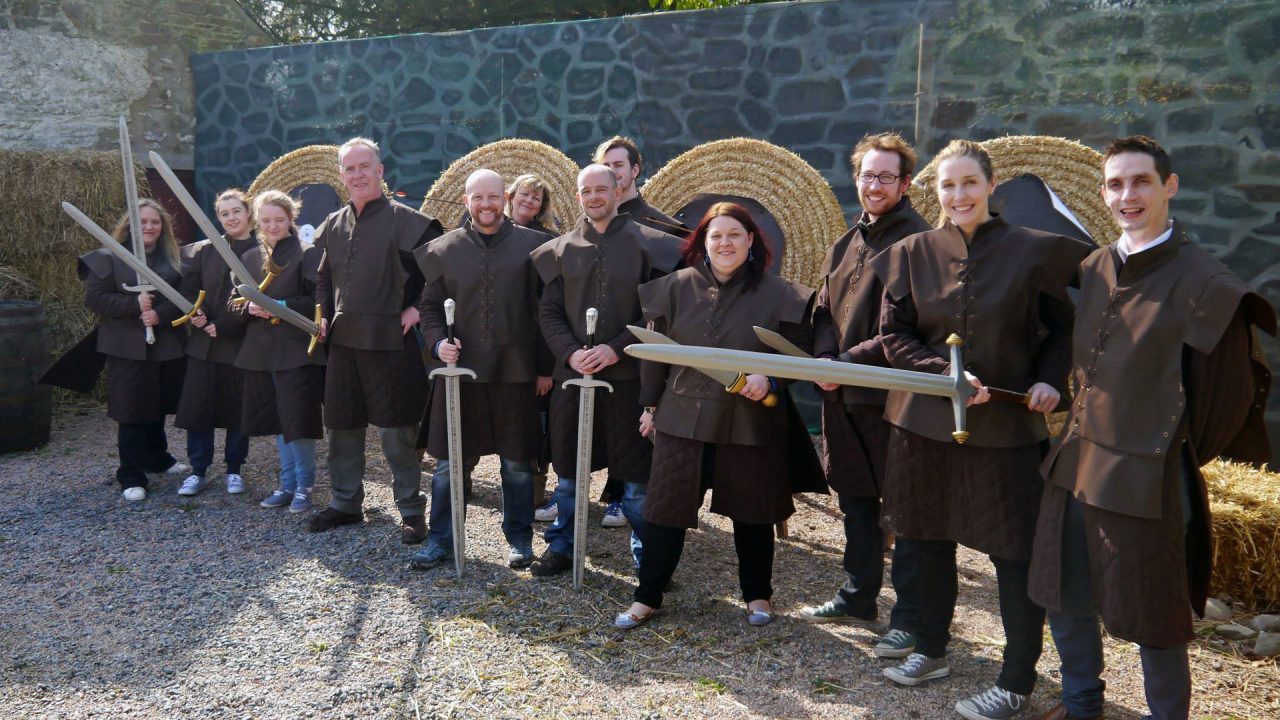 Tour of Thrones
Winterfell Experience
£35pp (available for private hire groups only, max. 16)
Tel: 028 8673 7325
Head into County Down and see the spectacular views of the Mourne Mountains and forests, Castleward which is the backdrop to the Stark home Winterfell as well as Robb's Battle Camp where you'll get into costumes and get ready for combat. See Audleys Castle, Quoile Pond, Downpatrick, the burial place for the patron Saint of Ireland, Saint Patrick. Tollymore Forest, Inch Abbey and back to Belfast to see the largest indoor studios in the world Paint Hall Studios. (Note this hall is a working studio and there is no access).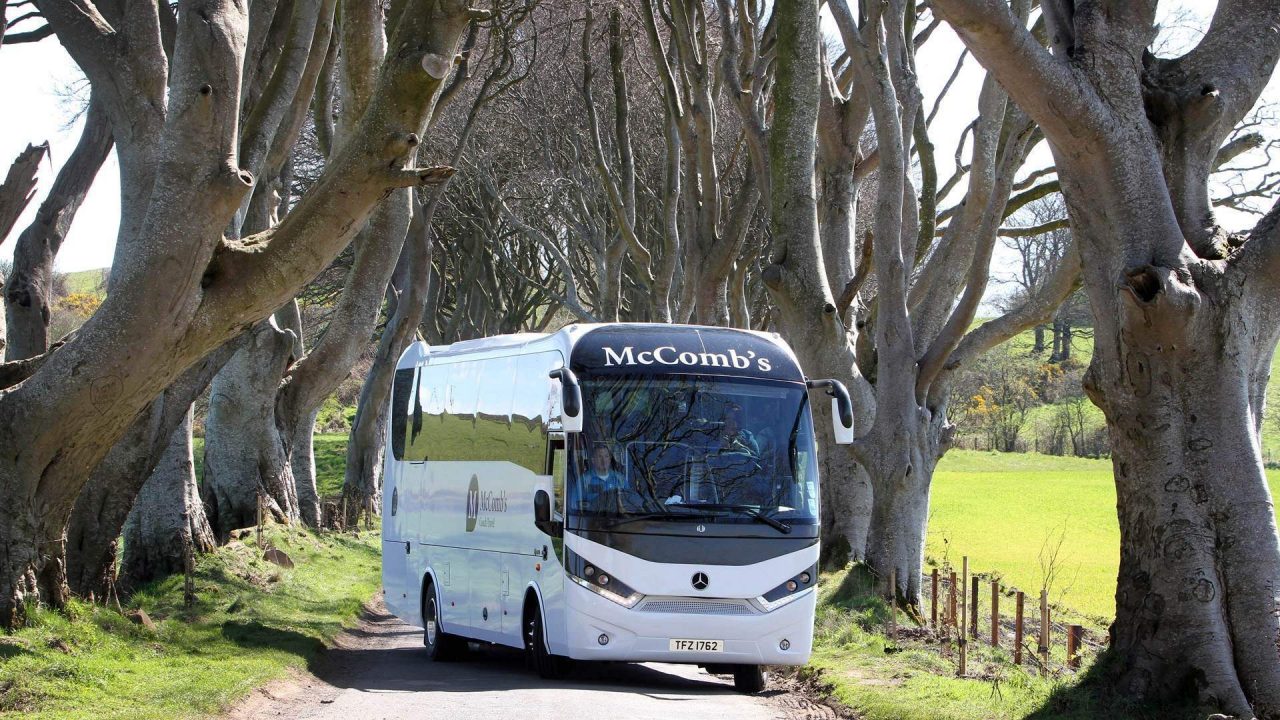 Game of Thrones Tours with McComb's
Various pick up points, view website for details
£35 per person
Tel: 028 9031 5333
Invade Winterfell and Westeros on an award winning coach tour with McComb's. Sights include Causeway Coastal route, Cushendun Caves (birthplace of Shadow Assassin), Ballintoy Harbour (Pyke Harbour), Larrybane Quarry (Renly's Camp) and The Dark Hedges (The Kings Road). Or, explore Winterfell on a Direwolf experience tour featuring Winterfell Castle and Tollymore Forest Park (The Dark Forest).
*This blog is independently operated by Visit Belfast. It is not sponsored, endorsed, or affiliated with HBO or anyone associated with 'Game of Thrones'.